SynchUP by Snapshot

Case Study

International Wine Accessories
See firsthand how we assisted IWA with their NetSuite to Listrak Integration.
IWA Background
Snapshot is delighted to present a case study highlighting our collaboration with IWA Wine, a prominent player in the wine accessory industry in the United States. IWA Wine is renowned for its extensive collection of premium wine storage solutions and accessories, serving customers nationwide. This partnership leveraged our cutting-edge product, SynchUP, a pre-built iPaaS data integration platform. SynchUP played a pivotal role in enhancing the integration between their ERP platform, NetSuite, and marketing solution, Listrak, with the goal of maximizing sales performance.
IWAWine.com
SynchUP by Snapshot - NetSuite to Listrak Integration
SynchUP's synchronization framework enabled a bidirectional data flow between Listrak and NetSuite, ensuring that both platforms are consistently updated close to real-time. The critical data being transferred includes products, orders, customers, subscriptions, transactions, and email & SMS order confirmations.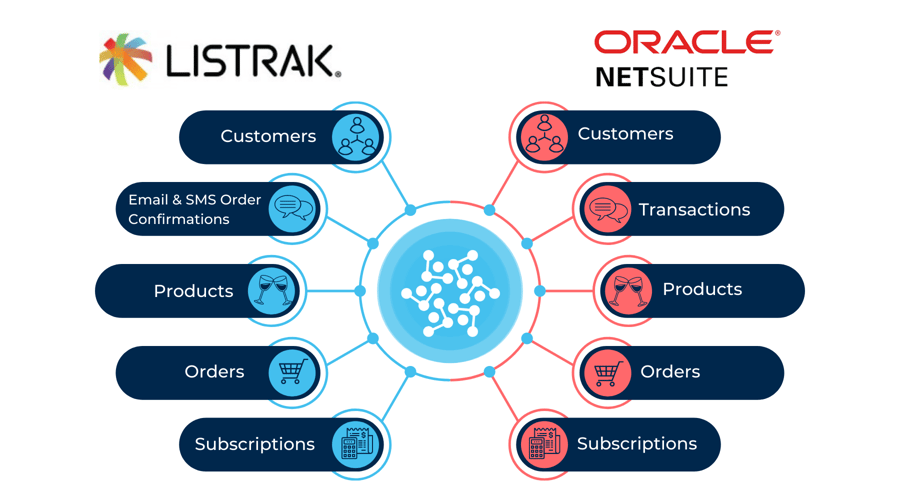 Project Outline
Snapshot was honored to take the helm of a significant project for IWA Wine, a prominent player in the wine accessory industry. Facing the deprecation of their email service provider and marketing software, Bronto, IWA Wine made a strategic move by adopting the best-of-breed platform, Listrak, renowned for its prowess in eCommerce marketing automation. To seamlessly transition, Snapshot stepped in as their trusted data integration experts, entrusted with orchestrating the migration and integration between Listrak and their existing ERP platform, NetSuite. Our journey began with an extensive discovery process, involving close collaboration with both Listrak and IWA Wine, to architect a solution that impeccably aligned with IWA's business requirements and aspirations. Our aim was clear: streamline marketing efforts and deliver an unmatched shopping experience to their valued customers.
Project Goals
Snapshot embarked on this mission with a clear focus: to establish a robust and efficient linkage between IWA Wine's NetSuite ERP platform and Listrak, thereby facilitating the seamless management of SMS and email order confirmations and customer subscriptions. Achieving this goal necessitated a comprehensive analysis of IWA Wine's existing business processes and workflows to ensure a harmonious integration.
In addition, to elevate IWA Wine's marketing capabilities, the implementation team harnessed the power of Listrak's automation tools and designed workflows that were tailored to optimize customer engagement and foster deeper customer relationships. As part of our solution, Snapshot seamlessly integrated Listrak's SMS messaging solution, enabling IWA Wine to keep customers well-informed throughout their buying journey and to offer highly personalized interactions. This project's success was measured by our ability to enhance IWA Wine's marketing efforts and create a more enriching shopping experience for their valued clientele.
Snapshot Professional Services
In Depth Discovery

Data Mapping & Solutioning

SynchUP Environment & Jobs Setup

Implement Data Mappings

Implement Translation Logic

Quality Assurance & Systems Testing

Launch Support
Want to see what we can do for you?
See what we can do to help you improve your site traffic and increase your sales.
Contact Us Today